There's something standing between you and your goal. Maybe it's sufficient work experience, or perhaps your employer believes you lack sufficient training.
Why pursue a bachelor's degree?
Choosing to go back to college is a big decision. To succeed, you need to find your motivation to earn your bachelor's degree. Are you looking to increase your earning potential (also known as "make more money")? Do you want to achieve a leadership role?
Of course, earning that next promotion or increasing your paycheck aren't the only reasons to finish your degree. You may want to better yourself through education or set an example for someone you want to see making positive choices for the future.
What's your motivation?
Secure your future
Qualify for new career opportunities
Enjoy a better lifestyle
Be a positive role model
Become a better communicator
Advance your education
Thrive in diverse environments
Degree-holding employees are in-demand
Experts agree that, as a nation, we desperately need more citizens with post-secondary credentials, including bachelor's degrees.
"The United States risks an unprecedented shortage of college-educated workers in coming years. With the global economy demanding more and more highly skilled workers, economists and labor experts say increasing college attainment is a national imperative. "1
Studies show that 65 percent of U.S. jobs — almost two thirds — will require some form of post-secondary education by 2020.2
The bottom line is: Earning a bachelor's degree not only opens doors to advance your career into leadership and management roles, it can also increase your professional opportunities and your earning potential.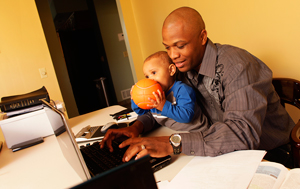 Make the right choice for you and your family
In the long term, going back to college can help you improve your career, your earning potential and the quality of life for you and your family. But it also inspires immediate questions about your commitments, your finances and your schedule. Until recently, completing a traditional bachelor's degree as a working adult could require 3 to 12 years and cost up to $50,000 or more.3
Roberts can help
At Roberts Wesleyan College, we've been helping adult learners just like you complete their bachelor's degrees and transform their lives in as few as 15 months, 1 night a week (or online), for less than $25,000! This is possible through something we call degree-completion.

Find the support to succeed at Roberts
Each student who enrolls in one of Roberts degree-completion programs receives personalized academic advisement. Committed faculty help each student succeed and finish what he or she started. Roberts' high completion rates are proof of our commitment to your success!
How can you finish your degree through degree-completion?
Get started today by choosing to go back to school to earn your bachelor's degree in as few as 15-21 months. Take the next steps:
Gather all past college credits — usually in the form of unofficial or official college transcripts from each institution attended. NOTE: At Roberts, your credits do not expire and will transfer providing they are a C- or better (see program admissions requirements online for details and exceptions).
Gather life/professional experiences and training into a portfolio or résumé — don't forget to include any certificates you may have earned. Our academic advisors will work with you to help you either demonstrate or translate your experiences and training into college credit, provided they have been approved by The American Council of Education (ACE) for college credit.
Register for an Information Meeting to learn more about your program of interest and how you can apply prior life and learning experiences to complete your bachelor's degree: www.roberts.edu/INFOMEETING

Additional Reading
Sources
http://www.luminafoundation.org/stronger_nation/report/
A Decade Behind. Georgetown University Center on Education and the Workforce, 2012: http://www.luminafoundation.org/stronger_nation/report/main-narrative.html
CAEL, A Consumer's Guide to Going to School