"It's a terrible thing to look over your shoulder when you are trying to lead – and find no one there." - Franklin D. Roosevelt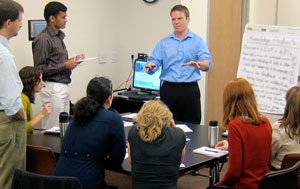 In a time of downsizing, right-sizing, re-organizing, and consolidating, it is common to find managers with fancy titles who are focused on making numbers, completing tasks, and who vaguely acknowledge that there is a team made up of people who are there to help and are excited to contribute. The longer this goes on, the more the excitement of the team wanes and the leaders in the group move on to loftier organizations.
Where have the great leaders gone?
We, as humans, tend to hear bad news the loudest. Companies that are poorly run or headed by someone with leadership only in their title and who have lost track of their moral compass, make the news quickly, and it is easy to feel discouraged and wonder where the great leaders and growing companies have gone.
The good news is simple: Altruistic leaders are out there taking teams of other leaders to the greatest heights and building fantastic organizations. However, they just aren't hogging the spotlight. These companies are fiscally, and as importantly, morally, prosperous. Companies that are led by altruistic leaders take action to show how much they care about their communities and their customers. Top-performing employees are waiting in line to work in these organizations that are moving forward fast. Such organizations allow employees to make an impact and have fun along the way because they are accomplishing goals everyday.
Celebrate contagious leadership
Many of these leaders in our community have started their own companies so they can run them their way. Rochester is a hot bed for start-up companies and small companies that are very successful. One such leader in Rochester commented that he encourages his team to remember that similar to a circus, every day is show time. As a result, that attitude is contagious with their customers. Another implemented an "every day" heroes program to catch her employees doing something right for their customers. Companies like this are growing fast.
People enjoy following leaders such as those mentioned above because they have altruistic motives even in the most driven and urgent corporations. And, they consistently put the teams ahead of the tasks. These are leaders who know "nice guys do win" and "honesty is still the best policy." They honestly care about each member of their team, feel responsible for their well-being, and they take pride in their accomplishments. Job security is expressed and achieved through sharing knowledge, hiring experts, and reveling in their success.
Altruistic leaders are kind, but they should not be mistaken for pushovers. Such leaders are the same people who are the most willing to have the toughest conversations with the teams they love because they know people can only perform to their highest potential with immediate and honest feedback. They care so much about each person that they feel compelled to tell them exactly what is required to allow the person to maximize their potential, even if it puts them outside of their comfort zone. In addition, these altruistic leaders will not tolerate behaviors and values that are counter-intuitive to the environment they have created. People who undermine the team and underachievers who are unwilling or unable to change won't last long. An environment of honesty and unwavering accountability is required. Football fans will know what a great motivator and beloved leader Lou Holtz is. Recently, he was interviewed and asked how he became such a great motivator. He responded, "it's simple – I fire the people I cannot motivate."
How can you make a difference?
Companies with a clear, communicated strategy; a well-defined organizational structure; and high-performing teams comprised of altruistic leaders are abundant in our community. A great place to begin to see for yourself is to research so many of our Rochester Top 100 companies and the leaders that fuel their growth engine. Then, ask yourself where you fit in and see how you can make a difference.
Karen Benjamin is the co-founder and a Principal owner of Worldleaders, a professional search firm that specializes in hiring top performing leaders for their progressive client organizations in Rochester, NY (www.worldleadersjobs.com). Prior to Worldleaders, Karen was a Vice President with a billion dollar global information technology consulting firm. In May of 2005, Karen graduated with a masters degree in Strategic Leadership from Roberts Wesleyan College and also holds a Bachelor of Science in Communications from the Rochester Institute of Technology. In addition to her position at Worldleaders, she serves on committees and boards that include St. John's Meadows, The Association for Women in Computing, the Women's Presidents Organization, Junior Achievement, and the Wilmot Cancer Center Underwriting Committee. She enjoys spending her free time with family and friends as well as engaging in outdoor activities such as biking, hiking, and boating.
Keep Reading